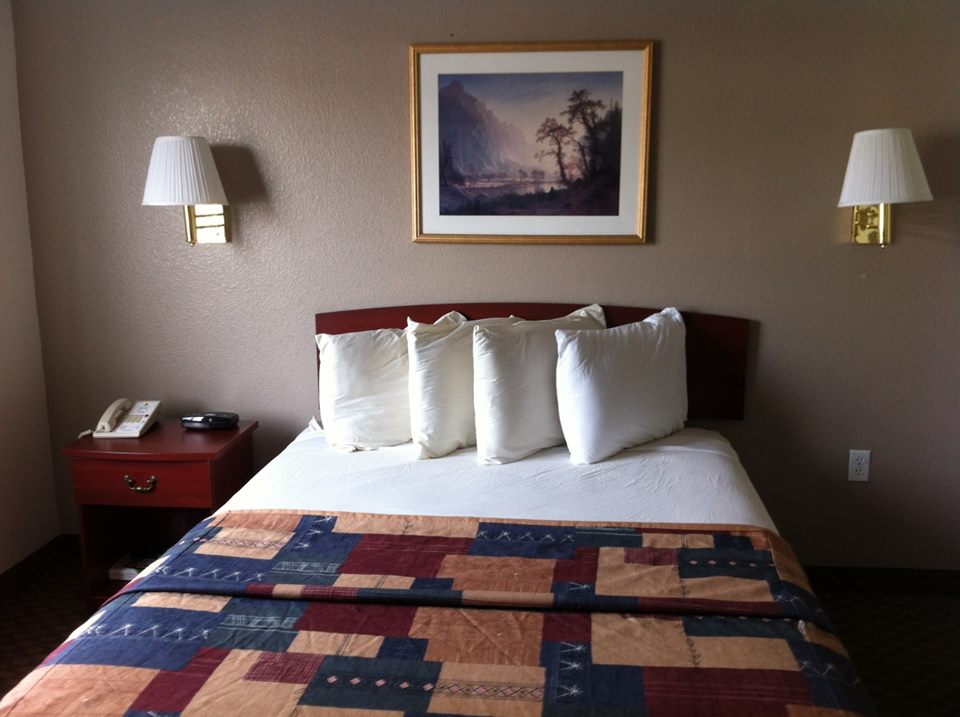 Las Vegas can be an incredibly cheap destination if you're on a budget, especially if you're staying awhile.
Here are some safe options if you're coming to Las Vegas and only want to spend around $40 per night.
1. Crestwood Suites Las Vegas Blvd, starting at $35 a night.
I'm here currently. It's $245 for a week long stay, or $35 per night. For a two night stay, I paid $42 a night using a 15% off promo code that Crestwood Suites had on their corporate Facebook page. The code is SOCIAL. A 3 night stay using the code is $39. My stay was a Friday and Saturday night so they don't hike the prices way up for the weekends.
Pros: Crestwood Suites is very close to a big Wholefoods Supermarket at "Town Square." The rooms have a mini kitchen that has everything you might need, except for an oven (full size fridge, microwave, stovetop).
The parking and wifi are free, and the wifi is blazing fast (24 Mb/Sec).
For families, they have two bedroom suites at a slightly higher cost.
I will be extendinf my stay here. It's quiet, calm, and definitely feels safe.
Cons: Not convenient if you're using the Deuce bus to get around. I have a rental car, which I drove here from LA.
2. Circus Circus, starting at $25 a night, plus a bogus $10 a night mandatory resort fee.
Circus Circus offers a lot less than Crestwood Suites, but it does put you on the Strip, albeit at the North End. The parking and wifi are free.
I would not pay anymore than this rock bottom rate for this property.
Pros: I did have a pretty nice view of the Strip from the 21st floor. This is not the worst choice if you can get a bargain rate and you want to get your bearings. I stayed my first night there on this trip. I knew it would be pretty reliable and safe and I hadn't had a chance to look around at other hotels.
Cons: There are no fridges in room. However, there was an ice machine in the corridor. Check out is 11am, which is annoyingly early.
No swimming pool in winter. The cheapest rooms are in the "Manor House" across from tower. I paid an extra $5 a night not to be in the Manor House.
The ceiling heights are really low.
I'm not sure you'd feel like you were having a very good experience if you're coming for a fun weekend and stayed there. You're far better to spend a tiny bit more if you're looking for a Las Vegas Strip weekend experience.
3. The El Cortez Hotel – Downtown, starting at $18 a night.
You can stay here for $18 during the week. They hike the rates up on the weekends. Parking is free. Apparently, they are getting wifi in February 2014. I stayed at the El Cortez on a prior trip to Las Vegas.
Pros: Super cheap. A real old school Las Vegas experience. They have an awesome 24 hour diner. You can experience the culture of downtown Las Vegas and still get the Deuce bus straight down the strip. No bogus resort fees.
Cons: Not many amenities. However I would stay there again.
4. Motel 6, starting just under $50 with promo code.
This place is out of the $40 range but, since I know that people will wonder about Motel 6 as a budget option for Vegas, I am mentioning it. There is a Motel 6 a little bit East of the MGM Grand Hotel. It's a bit too far of a walk to be convenient to the strip. Use a 10% off promo code, which you can easily find online. Try Retail Me Not for a current code.
Cons: No fridges and wifi costs $2.99 a day.